By the late 1930's the Navy service visor cap had evolved into the modern design used throughout the WWII era. The Bell Crown design used at the turn of the century went through a series of gradual design changes that eventually resulted in the familiar WWII cap. Over time the crown of the cap was widened considerably, the visor widened and lengthened, the slope of the visor relaxed, and the chinstrap widened. The multitude of changes produced a more relaxed, less rigid looking cap with a modern appearance.
The Navy service cap of the WWII era was alternately referred to as a complete cap or combination cap, with both terms sometimes being used in the same reference material. The combination cap was a versatile design of which the primary component was a frame to which any one of a number of different kinds of covers, bands, and chinstraps could be attached. Both officers and enlisted men utilized the same type of cap frames and covers, but combined them with their own distinctive insignia, cap bands, and chinstraps to form a finished cap. The cover, band, and chinstrap were all held in place on the frame by a pair of screw post buttons that passed through the frame on either side of it.
A circular wicker frame was central to the cap design and served as its foundation. Wicker frames were formed using many different types of weave patterns and densities; some having tight weaves, while others were loosely woven. A linen covering was sewn to the outside of the wicker frame and was folded over the top edge to form a binding. The bottom edge of the frame was finished with a dark blue piece of cloth binding. A leather sweatband was then attached to the inside bottom of the wicker frame. The front of the cap was formed by sewing a leather visor to the bottom of the frame and a riser to the top. A wire stiffener ran through the top of the riser to help provide form to the cover. Both flat wire and bound wire stiffeners were used in order to give the cap a look that Navy regulations described as follows; "flaring throughout its circumference to give the center edge of the cover a rolled or rounded effect". This rounded edge of the cap cover was distinctly different than other types of service caps, such as the Marine Corps enlisted man's cap, which had a cover with a flat, sharp edge due to its thin wire stiffener. A band of oil cloth that served as a sweat protector ran across the top of the frame with one end attached to the riser and the other end to the back of the wire stiffener.
Per the 1941 minimum outfit requirements, Navy officers were to purchase 2 caps, 1 rain cover, 1 blue cover, 3 white covers, and 2 khaki covers. Later, in 1943, when the gray working uniform was introduced, a matching cover would also be required. An Officer's cap can easily be identified by its large distinctive cap device, cap band with a backing for the device, and gold colored chin strap.
The Officer's cap device design was a spread winged eagle in silver, perched on a silver shield, superimposed on a pair of gold, crossed anchors. Its height was approximately 2 1/4-inches and could be made of embroidered wire, metal, or plastic. Prior to May, 1941 the eagle on the officer's cap device faced to the left and thereafter the design was changed so that the eagle faced to the right. This was done so that the eagle's face would be aligned with the sword arm, which is the heraldic position of honor. At this same time all uniform buttons, including cap buttons, were changed so that the eagle faced right.
The officer's cap band was made of 1 1/2-inch wide mohair braid and had an oblong backing sewn to the front, which was used to support the cap device. The cap device was secured to the backing via two screw posts and nuts. Officer's chin straps were 1/2-inch wide and made of either gold or yellow lace sewn to an adjustable leather backing. In 1943 an optional black braid chin strap for the officer's cap was introduced. However, the gold chin strap was always to be worn on dress occasions.
There were three different styles of visors authorized for officer's caps. Ranks of lieutenant commander and below wore caps with polished black visors. Ranks of captain and commander had the option of wearing a row of embroidered oak leaves and acorns on the front edge of their visors. The flag ranks, commodore and above, could wear a double row of oak leaves and acorns. The embroidering was done on a dark blue backing and attached to the visor top. Those eligible to wear embroidered caps had to do so on dress occasions.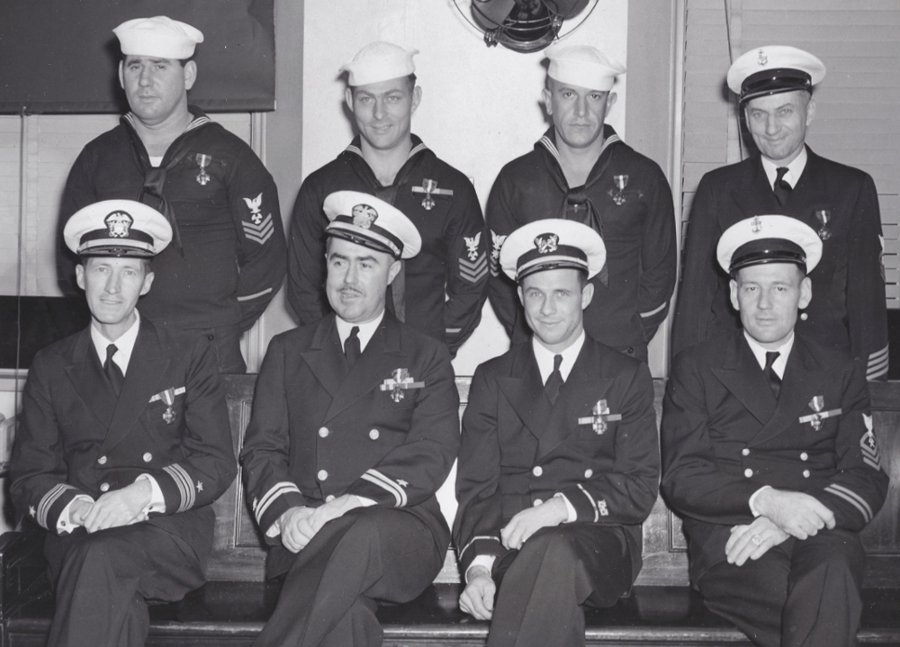 This photograph taken in New York City on August 8, 1942 shows eight officers and enlisted men of the light cruiser Marblehead after receiving the Navy Cross for their heroism during the Battle of Makassar Strait on February 4, 1942. Left to right - first row: Lt. Commander Martin J. Drury of Jamestown, RI; Lt. Harvey M. Anderson of Chicago; Herman Hock, Chief Warrant Officer Boatswain's Mate from Beaumont, TX; and Hale T. McCulley, Chief Shipfitter from St. Louis. Second Row: Martin Moran, Metalsmith First Class from Manchester, NH; Dale L. Johnson, Machinist's Mate First Class from Thief River Falls, MN; Lester J. Barre, Quartermaster First Class from Sabine River, TX; and Frederick H. Ritter, Chief Electrician's Mate from Normal, IA. These officers and enlisted men all wear their white caps and hats, which were prescribed for the Navy's Blue Service Dress "B" uniform. In the front row, second from left, Lt. Anderson wears an embroidered wire, pre-1941 cap device with the eagle facing left, and next to him Chief Warrant Officer Hock wears the crossed fouled anchors device on his cap indicating he is a warrant officer.
Navy enlisted men who wore the combination cap included chief petty officers, stewards, and cooks. Per 1941 Navy regulations, these enlisted men were required to maintain two caps each as part of their minimum prescribed outfit. In addition to their caps, chief petty officers were to maintain one blue, one white, and one khaki cover, while cooks and stewards were to maintain one blue and one white cover. Later, in 1943 the gray cover was included as it became part of the ensemble of the new gray working uniform.
Insignia for enlisted men were pinned directly to the front of the cap cover. The CPO's cap device was a single gold fouled anchor with silver letters "USN" superimposed over it. The steward's and cook's cap device consisted of the letters "U.S.N." in gold. A black piece of 1 1/2-inch wide braided mohair was used for the cap band. Visors were black polished leather or patent leather. Chinstraps were 3/4 of an inch wide and were either black polished leather or patent leather.
Cap covers were made in a variety of colors and materials so that they could be matched to the appropriate uniform. Wool covers were lined on the inside with rayon and came in navy blue, green, and khaki. Blue wool covers were usually made in heavy broadcloth, but could also be found in serge, whipcord, or elastique. Green covers, authorized for aviation personnel, were usually made in elastique wool. Khaki wool covers were made using a tropical worsted material. The cotton khaki and gray covers were made of uniform twill. The white cover was made in a heavy grade cotton poplin weave and weatherproofed. Officers and chief petty officers wore the same color service and working uniforms and thus the entire spectrum of cap colors were used by both. Stewards and cooks, for the most part, wore blue and white uniforms with matching caps, but sometimes could be seen wearing the gray uniform and cap.
Per 1941 Navy regulations, gilt buttons were authorized for officer's and chief petty officer's caps and black buttons for cook's and steward's caps. The button device consisted of an eagle perched on an anchor and encircled by thirteen stars and a rope. In May, 1941 the eagle was changed from left facing to right facing. Cap buttons were 9/16ths of an inch in diameter and made of gilt metal, plastic, or a combination of the two materials. As the war progressed and metal became a carefully rationed strategic material, buttons and button components were increasingly made of plastic. At first button screw posts and backings were made of plastic. Then, in 1943 an all plastic, dark blue cap button appeared, which could be worn with the working grey uniform or with the officers black braid chin strap. To secure the chin strap, band, and cover to the frame, two different button types were used. One was a screw post design that joined with a flanged nut located between the sweat band and wicker frame, and the other used two wire prongs that were bent back between the sweat band and wicker frame.
Manufacturer's labels were usually applied to the sweat protector, which ran across the wire stiffener from front to back. Labels that were made of paper were either glued or sewn into place, or sometimes a label could be printed directly on the sweat protector. A sheet of clear plastic material was then sewn over the label to preserve it. Below the label a small pocket was usually formed in the plastic sheeting for inserting an owner's identification tag. Size labels can be found sewn or glued in one or more of the following locations: On the leather sweat band, on the wicker frame, and inside the cap cover.
Caps can be found with labels from the big name cap and hat manufacturers of the era, such as Society Brand Hat Co., Dobbs, Bancroft, etc., as well as many smaller producers and subcontractors. Some manufacturers used their traditional logos, while others use descriptive names and images for their product lines that borrowed terms and images from navy life. Names like "The Dreadnought" or "The Commodore" were common as were illustrated action scenes of perhaps a battleship firing its guns or an aircraft carrier launching its planes. Another common label that appeared in caps was the "Regulation U.S. Navy Cap" label. This indicated the item was made and sold under the authority of the U.S. Navy. Uniform items displaying the "Regulation U.S. Navy" labeling were part of a program that began in May, 1942, were post exchanges and retail stores could sell these items as long as they agreed to sell them below the then current price ceiling. This helped ensure a ready supply of affordable uniforms for men entering the service.
Unfortunately, WWII era Navy caps were not dated, nor were contract numbers applied to them as was done in some Army and Marine Corps caps. As a result there are no surefire ways to date WWII era Navy visor caps. Post-war changes occurred gradually as plastic components were added and new frame designs introduced. A practice that began after the war was the inclusion of patent numbers on manufacturer's labels and on other cap components such as the sweat band. These patent numbers come in handy because they can be run through an internet search engine to retrieve the patent applied for and received dates. Doing so is very helpful in determining the age of an artifact. Acquiring caps that are part of original uniform groupings will also give valuable insight into the characteristics of WWII era caps.
Early in the WWII era most caps had linen bindings, risers, and other natural components that were highly susceptible to deterioration from body perspiration. As a result some manufacturers began to utilize oil cloth and other more durable materials for these internal parts. Later, post-war era cap construction started to make use of synthetic materials in place of natural materials. Caps that were used regularly and exposed to the elements during the war can be very fragile 70 plus years later. Care should be exercised when handling or dismantling them, as leather chinstraps, visors, and sweat bands that have become dry and brittle over the years can easily break. The stitching holding in the sweat band is especially vulnerable to breakage due to repeated exposures to body perspiration. Additionally, oil cloth and plastic sweat protectors that have become brittle can easily tear or crumble if mishandled. One should carefully size up the relative health of the cap and its components before deciding what kind of handling it can withstand. If this is done thoughtfully, caps can be handled, displayed, and enjoyed without causing any unnecessary damage from occurring.